Objectives
Mundikat aims for:
'The unification of breeders, lovers and holders of cats to promote the well-being of the (purebred) cats. Mundikat promotes responsible breeding, keeping and caring for (purebred) cats. "

Mundikat is a member of the Féderation Internationale Féline (FIFe). It adheres to the statutes and regulations of this umbrella organization.
Historie
Mundikat was founded in 1976 as a spin-off from Felikat.

After its founding in 1976, joining FIFe was high on the agenda. After two long years, Mundikat was accepted as a full FIFe member in 1979. This made the Netherlands the second country with two full FIFe members after Austria. In the early 1980s, attempts were made to bring Mundikat and Felikat together in a federated context, Felis Neerlandica. However, this attempt failed, as a result of which the Netherlands and Austria remained an exception within FIFe.

From the beginning, Mundikat has been an active and progressive association. An association that favors limited but useful rules that are verifiable. Clear and transparent rules, which the members can use well.
This credo was therefore one of the ideas behind the founding of the association.

As an active association, Mundikat has an impressive record of merit. Over the years she has made many contributions to catfancy. For example, Mundikat organized a FIFe world show twice, in 1996 and 2006. She also contributed to the recognition of the following varieties and color varieties: the Turkish Angora in cream with white (1985), the Oriental shorthair in fawn and cinnamon and the British shorthair golden tabby (1990), the recognition of the bengal (1998), the recognition of the Sphynx and blue golden British Shorthair (2001), the Oriental Shorthair in bicolor (2003), Siamese and Balinese in fawn and cinnamon point and the Ragdoll in red, cream, torties and tabbies (2004) The most recent recognition is that of the Seychellois or the Siamese with white in 2006.

Mundikat is aware of the social changes around it. Thanks in part to participation in organizations such as the catfancy consultation platform (OP) and to the responsible pet ownership platform, the association is well informed and contributes to important changes. A demonstration of the progressiveness of Mundikat resulted from the adoption of the OP regulations in 2000, which introduced the mandatory Felv test, one of the reasons behind the establishment of Mundikat. It showed that the association was open to and fully participated in the changing spirit of the times. For example, Mundikat has also contributed to the OP publication "Beautiful and Healthy" plan of the Elimination Approach or reduction of unwanted hereditary characteristics and / or disorders in purebred cats (2002). The opening of FIFe shows to independent showgoers, the so-called open door policy (1995) of FIFe, also comes from Mundikat.

This short history does not do justice to the entire history of Mundikat and to all the people who contributed to it, but hopefully it gives you a brief impression of the lively history of this association.
Mundikat
A federation for all
All cat lovers and (hobby) breeders are welcome at our shows or as a member of the association. At shows as a visitor, exhibitor or exhibitor or as a member of Mundikat you can take advantage of the many benefits, such as being able to request pedigrees for your kittens, discounts on show registration and seminars or lectures and receiving our wonderful (full-colored) Mundikat magazine six times a year.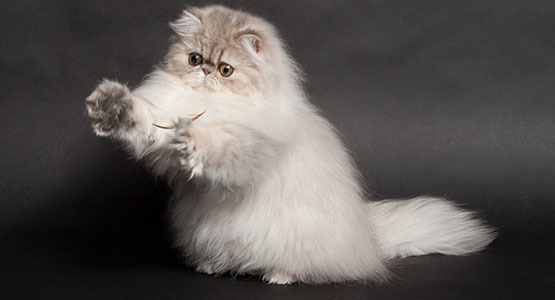 Stamboek
Mundikat is een stamboekvoerende vereniging. Dit houdt in dat de vereniging aan hoofdleden die een geregistreerde FIFe cattery hebben, stambomen voor de geboren kittens uitgeeft. De vereniging is verantwoordelijk voor het vastleggen van de afstammingsgegevens van alle raskatten die door de Mundikatleden worden gefokt.
Bij Mundikat nemen we deze verantwoordelijkheid enorm serieus. We hechten enorm veel waarde aan de juistheid van de registratie en afstamming.
Shows
Mundikat organiseert jaarlijks 5-7 internationale kattenshows onder auspiciën van de Fédération Internationale Féline( FIFe), waaronder elk jaar met Pasen een 2 daagse show. In 2016 was deze show in Nieuwegein.
Op onze shows zijn meestal tussen de 350 en 550 katten te bewonderen. De aanwezige katten worden gekeurd door internationale keurmeesters die afkomstig zijn uit heel Europa.
Magazine
Mundikat Magazine is het contactorgaan van de vereniging Mundikat en verschijnt zesmaal per jaar in full-colour. Mundikat-leden ontvangen het blad gratis. Er wordt naar gestreefd de lezer zo breed mogelijk te informeren over het dier dat ons allen zo na aan het hart ligt: de kat.
Daarnaast bevat Mundikat Magazine mededelingen van het hoofdbestuur, commissies en rasclubs.
Aan de vormgeving en opmaak van het blad wordt de grootst mogelijke zorg besteed.